10/ first impressions
The first outing was short and resulted in the rear chain needing to be tightened up quite a bit. This is due to the fairly hard lubricant in the chain which, once run in, softens and allows the links and pins to assume the one sided geometry which is the natural running state of the chain. Having tightened it to give approximately 10 mm up and down play in the middle of the top run with the bottom run tight, it has stayed that way. The bevel box output shaft is very close to being concentric with the swinging arm bearings so, a tighter chain than might be expected on a motorcycle with the drive sprocket in front of the swinging arm pivot is quite acceptable and welcome.
The end result of all this is quite remarkable. I now have a machine which is a joy to drive. The connection between the engine and the road is so much more positive and it took a while to get used to how much more easily the back end would break away, the machine does not take prisoners when traversing a patch of gravel for example.
There is still some whine from the bevel box but at a lower pitch. I think this is due to the noise of the air being expelled from the sprocket by the belt teeth no longer being present. The noise of the belt scrubbing on the side guide plates is, of course, history. There will be a bit of oil spray from the chain and the garage floor will show this up but I think this is better than all the aluminium and rubber dust emitted by the old drive.
As for longevity, only time will tell, watch this space.
Failure?
With a few hundred miles now on the clock I am shocked to find that the initial problem still persists. With much higher loadings than previously, such as accelerating hard with a passenger on board and climbing a hill, the same jumping and banging in the drive train is evident. Some people commented that the problem was not the belt drive but that something else must be amiss - they were right. I have made the machine more pleasurable to drive, quieter, in need of less regular adjustment and all at a much reduced cost than the straightforward replacement of the original parts ( ignoring my labour, of course ). what I have not done is to eliminate the original reason for the project - my machine still bangs and jumps in a way that makes me fear that damage will result if it is not eliminated. My research continues.
Here are a few more general pictures.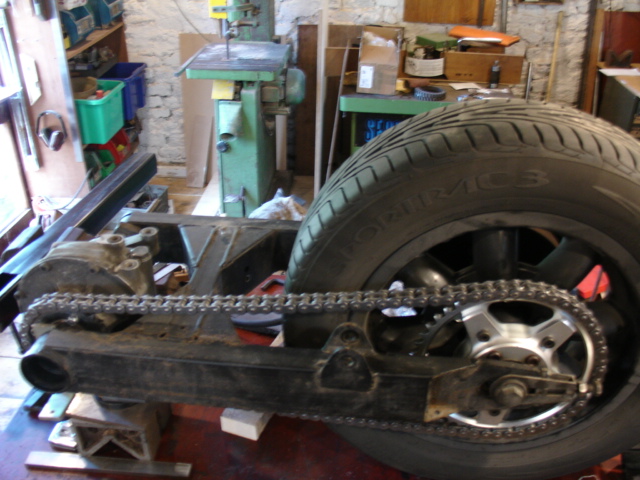 Set up on the bench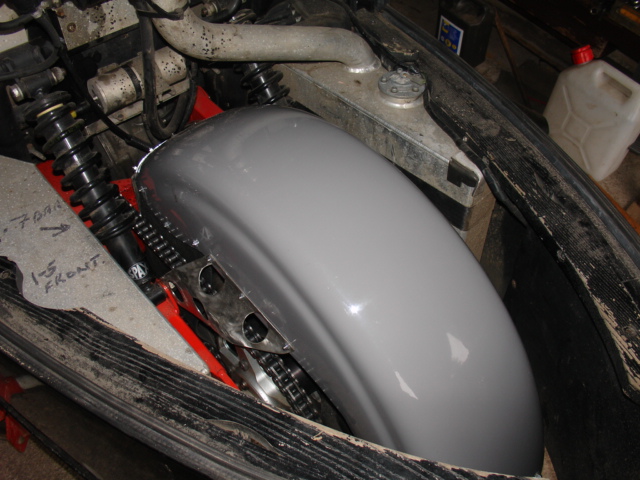 The chain run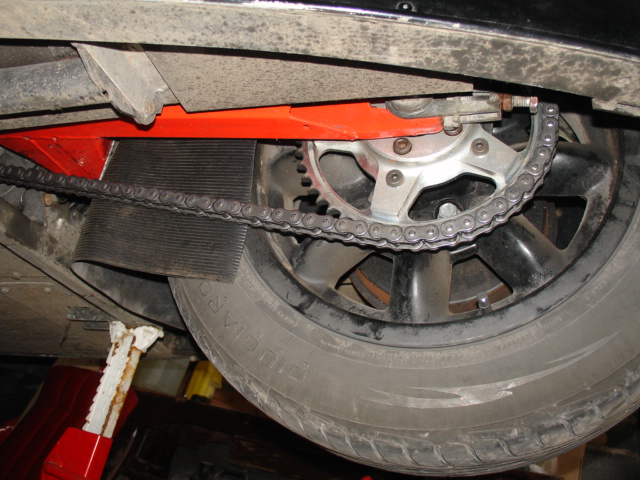 The mud flap keeps the muck off the chain