TUNEABLE WHISTLES (pitch A=440)

UK AND OVERSEAS ORDERING DETAILS

All my wooden whistles are supplied with care instructions, a fingering chart and a soft protective case, hand made from beautiful wools.

If you need help with repairs to, and maintenance of your instrument please go to:-

FLUTECARE




These tunable whistles have a tapered bore, and a silver plated tuning slide, which allows adjustment of a semitone either side of concert pitch. Superb tone and volume combined with accurate tuning make these very popular instruments.





NEW

VIDEO REVIEWS BY

PHIL HARDY
Take a look at the rest of Phil's site while you are there.

&

TONY HINNIGAN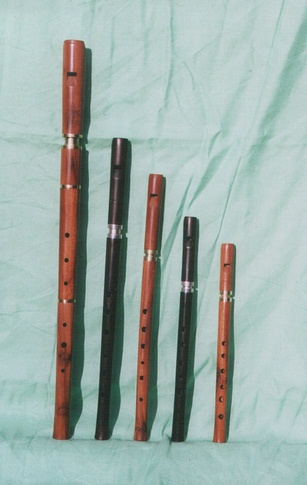 Key of D
Price £ 240.00

Key of C
Price £ 275.00

Key of B flat
Price £ 300:00

Key of G
Price £ 350.00


LOW WHISTLES

Key of D
Price £ 600.00

ALL PRICES NOW INCLUDE INSURED POST AND PACKING





Following many stories of people whose low whistles are difficult to play for reasons of very high air consumption, over large finger holes too far apart, or an inability to play above the fourth note in the second register, I was determined to make my low whistles free of these problems and ensure that they had the same quality of tone and intonation as the other whistles that I make. Many of you will know that this has taken several years but at last I am satisfied with the results and offer an instrument worthy of the title.
My low whistles use a good range of pressure increasing steadily through the range without a huge increase in air consumption which allows you to employ as much expression as you want. Flexibility throughout the range of 2 octaves and a tuning slide with ample adjustment allows you to keep up with the wildest of sessions. The dense timbers used to make these instruments mean that you have to warm them up well but once warm they stay that way. Each of my low whistles is played in by me during voicing to eliminate any problems from moisture distorting the block, the special shape of which allows it to 'work' in the windway with no undue effect on performance.
I hope that you will find the time to explore the versatility of these instruments when you visit me either on my exhibition stands around Europe or at my home. I look forward to seeing you.
TIMBER
We use timbers which are not endangered and which come from managed sources, ensuring a sustainable supply for the future. I normally work in the following woods:

African blackwood, boxwood, mopane, olive and fruit woods


WHISTLE HISTORY
For centuries Man has been making simple woodwind instruments which fit the description of whistle, these have been made of clay and bone, more recently the tin whistle has appeared on the scene, and throughout history there have been wooden whistles. All of these penny whistles were diatonic (made to play in one key)and used by ordinary folk to play traditional music. There are surviving tin whistles, often of brass with lead blocks which, I believe, were used to play military music. I recently had the pleasure of examining a penny whistle found in the bed of an English river not far from where I live, it is made of wood, decorated all over with a diamond pattern, has the fipple on the underside and no beak. Some French penny whistles even have a separate mouthpiece to enable playing sideways to look like a marching fife. There seems to be no limit to the variety of tin whistles or penny whistles which have been produced over the years. I am pleased to have added my own tuneable whistles to the list.









Phil and Claire Bleazey
At The Old Furness Street Stables
LANCASTER
LA1 5QZ

Tel:- 0044 (0)1524 849085



Last Updated November 2022